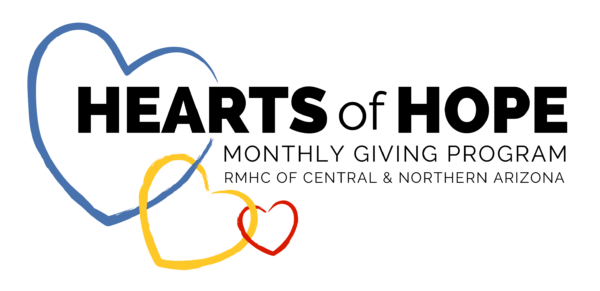 Monthly giving is the most convenient and effective way to provide consistent help to communities. Become a member of our Hearts of Hope Monthly Giving Program to help carry out our mission every day and make a big impact all year round. 
Here are some examples of how we use your investments to bring the comforts of home to families:
$10 a month – A night of rest for a family in need and a welcome toy
$20 a month – 5 welcome bags to make families feel at home
$35 a month – 4-night stay for a family
$50 a month – 5 family welcome bags
$107 a month – Provides 12 nights of rest for a family
FREQUENTLY ASKED QUESTIONS
Are my monthly donations tax deductible?
YES! All donations made to Ronald McDonald House Charities of Central and Northern Arizona are eligible for a dollar-for-dollar tax credit on your Arizona state tax filings up to $421/individual or $41/couple. Click here to learn more about tax credit donations.
Monthly breakdowns:

$421 individual max: $35.08/month
$841 couple max: $70.08/month
When will I receive my tax receipt?
Monthly donors receive one official charitable tax receipt in February (in time to prepare your taxes) for the total amount of your donations for the previous year. If you have misplaced your tax receipt or have any inquiries about receipting, please contact our Database Manager Lauren Schubert at 602-798-5094 or via email at lschubert@rmhccnaz.org.
Can I make changes to my monthly commitment?
YES! Feel free to reach out to our Database Manager Lauren Schubert at 602-798-5094 to make changes to your monthly gift or update your payment information at any time.