Serving families from Arizona and beyond
Since opening our doors in 1985, families have made more than 57,055 visits to the House.
We are committed to serving families in their time of need. No matter what. Here's how we served families in 2021:


families traveled
from all 15

Arizona counties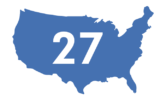 families traveled
from 27

different states

In 2021, 87% of family served were from Arizona.