Dear RMHC Supporter,
If I were to write my grown-up Christmas list, family togetherness would be at the very top, especially for families at Ronald McDonald House® like the Madisons from Queen Creek.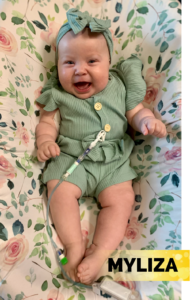 Last Christmas, the Madisons spent a wonderful holiday together. But days later, after uncharacteristic symptoms and urging from her mom, Charity took her four-month-old Myliza to the emergency room. Hours later, they received the news that turned their whole world upside down. Myliza had a rare form of leukemia.
Charity's first reaction was "No this can't be right! Pinch me. Wake me up from this nightmare." After the shock rooted into reality, Charity began wondering how she and her husband would get through Myliza's long treatment.
"I thought to myself, how am I going to balance still breastfeeding my four-and-a-half-year-old daughter," Charity described," And then also caring for my five-year-old at the same time?"
That's when the social worker at Banner Children's at Desert in Mesa pointed them in the direction of Ronald McDonald House, where the family called home for 99 nights.
"Ronald McDonald House was our saving grace. It allowed us to be together, to hold each other's hearts and hands through this experience, and none of us be left out because cancer is a family disease."
– Charity, Myliza's mom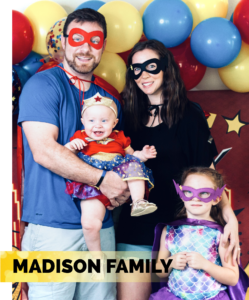 Your generosity truly makes a difference for families like the Madisons during crucial moments. And even when families can't be at home, you help give them space to share love and togetherness. Just ask Myliza's dad, Glenn:
"Each and every donation helps a family in need," Glenn shared. "The place that they donate will be there for them and provide their kids with love when they're going through a time like this. Their donation is going to make a family very grateful."
YOU can check "family togetherness" off your grown-up Christmas list by making a tax credit gift* to Ronald McDonald House Charities® of Central and Northern Arizona today.
With gratitude,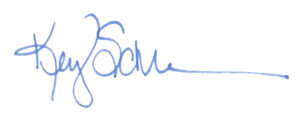 Kerry Schulman
Chief Executive Officer
P.S. Because of donor generosity, the Madisons found their "home-away-from-home" at Ronald McDonald House for 99 nights. Pass on the gift of togetherness by making a tax credit* donation to the House today.
Gifts to Ronald McDonald House Charities of Central and Northern Arizona of up to $400/individual or $800/couple are eligible for a dollar-for-dollar tax credit on your 2022 Arizona state tax filings. Learn more here.