18 Jun

JFQ Lending Steps Up for Ronald McDonald House Families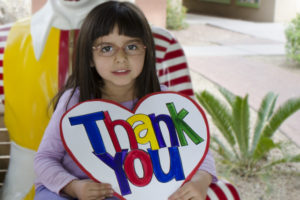 June 18, 2020
JFQ LENDING DONATES $50,000 TO RONALD McDONALD HOUSE CHARITIES® FOR FAMILIES IN NEED
Ronald McDonald House Charities® of Central and Northern Arizona (RMHCCNAZ) has received a gift of $50,000 from Scottsdale native JFQ Lending to support families staying at the Valley's three Ronald McDonald Houses seeking medical care for their child.
Although the donation came as a welcomed surprise, JFQ Lending is no stranger to the mission of RMHCCNAZ. "The commitment shown by the JFQ team toward families here at the House is indescribable," explains Kerry Schulman, Chief Executive Officer of RMHCCNAZ. "Their generosity comes in many forms and we continue to be amazed by their tireless support."
The donation follows the mortgage leader's commitment as the presenting sponsor for the organization's since cancelled Ronald McDonald House Greater Phoenix Pro-Am Golf Tournament, where they redirected funds toward support costs for family stays. "The decision to support Ronald McDonald House Charities of Central and Northern Arizona reflects our commitment to serving our community," claims JFQ Lending President, John Kresevic. "These families are fighting some of their hardest battles during an already trying time. JFQ Lending is proud to do all we can to help provide moments of comfort and joy to those who need it most."
The $50,000 contribution will provide funding for RMHCCNAZ through the duration of the pandemic and beyond as families continue to lean on Ronald McDonald House® for a comforting "home-away-from-home." With the cost of $107 per night per family to stay at the House, the gift will provide an astounding 467 nights of rest.  When reflecting on the impact, Schulman stated "There is no doubt this gift will provide a longstanding imprint on those we serve, and for that we are forever grateful."
RMHCCNAZ provides temporary housing at three Valley locations, including downtown Phoenix near St. Joseph's Hospital, on the campus of Phoenix Children's Hospital and on the campus of Cardon Children's Medical Center in Mesa. In total, there are 78 rooms available to serve families on any given night, with the average stay currently at 17 nights. Last year, over 1,454 families utilized the House, totaling 22,379 nights of rest. RMHCCNAZ remains open and is currently housing families through the pandemic. To learn more about the House or its COVID efforts visit www.rmhccnaz.org/covid.
JFQ Lending is a premier National Mortgage company Headquartered in Scottsdale, Arizona.  The company has experienced exponential growth since 2017 by offering an innovative approach to a wide-variety of mortgage products.  JFQ Lending creates an elite lending experience for America's new and existing homeowners by leveraging cutting-edge technology and premium client care. For more information, visit www.jfqlending.com