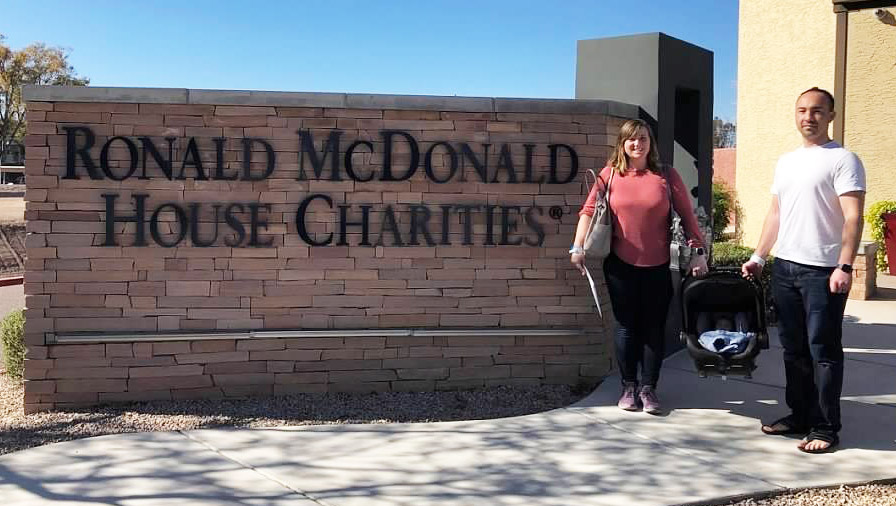 21 Apr

A Long Road Home: Evangeline's Story

May 5, 2021

After a 2 1/2 year journey that included one failed adoption, Amanda and Chris were overjoyed to be matched with a newborn baby girl in Phoenix. Within 24 hours of the call, they hopped on a plane from their home in the Bay Area.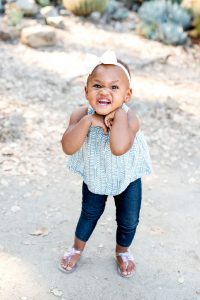 The couple didn't know how long they would be away from home, and they had no friends or family in Phoenix. Worse, they met their new baby Evangeline in the NICU, where she had been rushed for breathing problems.
"We felt really alone," Amanda recalled.
The NICU social worker told them about an opening at Ronald McDonald House Charities® of Central and Northern Arizona. Amanda and Chris moved in right away and prepared to welcome Evangeline to her "home-away-from-home".
But during that first night at Dobson House with her new parents, Evangeline struggled to breathe. Amanda and Chris rushed her to the ER, literally across the parking lot.
"She had to be hooked up to oxygen, and she stayed in observation for an additional 2 days. Those were the hardest days of our lives."
The couple took turns staying with Evangeline and returning to the House to catch up on rest and recharge. Once she was released, Evangeline joined her parents while they waited for approval to cross state lines. All told, it took 18 days before the family was finally able to return home.
Amanda and Chris remain deeply grateful to supporters and everyone at Ronald McDonald House®. They say the staff went the extra mile, taking care of things so they could focus on Evangeline's medical treatment.
"[At the House], you are cared for, loved and nurtured when your heart is heavy."
Today, Evangeline is a healthy, sweet toddler who loves to read books and tell jokes.  Amanda and Chris hope that when she grows up, Evangeline will use her big heart to care for others, just like their family was cared for in their time of need.