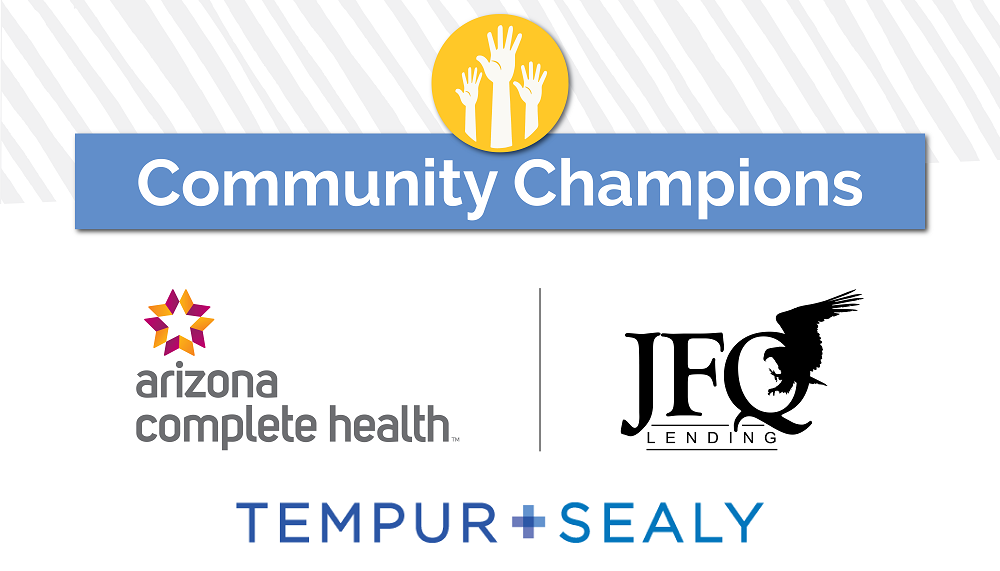 11 Aug

Community Champions Support the House

August 11, 2021

Despite the challenges and turmoil of the past year, smiles remain at Ronald McDonald House Charities® of Central and Northern Arizona (RMHCCNAZ); smiles because we continue to do what we do best – provide a comforting "home-away-from-home" for families in need. This is in large thanks to the generosity of those who stepped up in a big way to provide for families in their darkest hour. Today, we shine a light on the generosity of corporate champions Arizona Complete Health, Tempur Sealy International, Inc. and JFQ Lending for their incredible impact this past year.

Together, they helped to provide and deliver budget-relieving goods and funding to lessen the burden of the impacts of COVID-19, providing over $800,000 in funding, resources, and in-kind donations.

Arizona Complete Health recognized that with the cancellation of special events, comes significant impact. As a result, the healthcare provider quickly invested in the needs of families who rely in RMHCCNAZ as their home. Since, Arizona Complete Health has provided over $50,000 in funding to provide nights of rest, warm meals and adopted a family guest room to be rejuvenated into a fresh, welcoming space for families to rest.

Speaking to the core of our mission, Tempur Sealy International, Inc. invested in the comfort of our families during a time where they were faced with the unthinkable – caring for their sick or injured child during a pandemic. For years, Tempur Sealy has served as a crucial part of the Ronald McDonald House® mission as a Global partner providing in-kind items to Chapters in need. They came to our call in a big way last Winter – providing our three Valley Houses with hundreds of brand-new mattresses and mattress pads, valuing over $430,000. Their generosity not only provided physical comfort for the hundreds of families we serve each year; it offered tremendous comfort to the organization, relieving a huge expense, and most importantly, allowing for more critical funding toward our mission of keeping families together.

Mortgage leader and Scottsdale native, JFQ Lending, also continued to make a longstanding impact that will help provide families access to critical medical care at our "home-away-from-home" for years to come. The incredible generosity kicked off upon the cancellation of our Pro-Am Golf Tournament; JFQ Lending redirected and more than tripled their sponsorship commitment, providing 833 nights of rest in the amount of $90,000 – but that was only the beginning. Earlier this year, JFQ Lending increased their commitment to the families of Ronald McDonald House® when making a gift of $250,000. This contribution will aid many areas of our mission including nights of rest and rejuvenated family spaces as part of the Adopt-A-Room program.

Thank you to our generous corporate partners who stepped up more than ever to help provide for the most vulnerable in our community. With their support, Ronald McDonald House® served over 500 families during one of the most challenging years, providing nearly 10,000 nights of rest to those who needed it most.