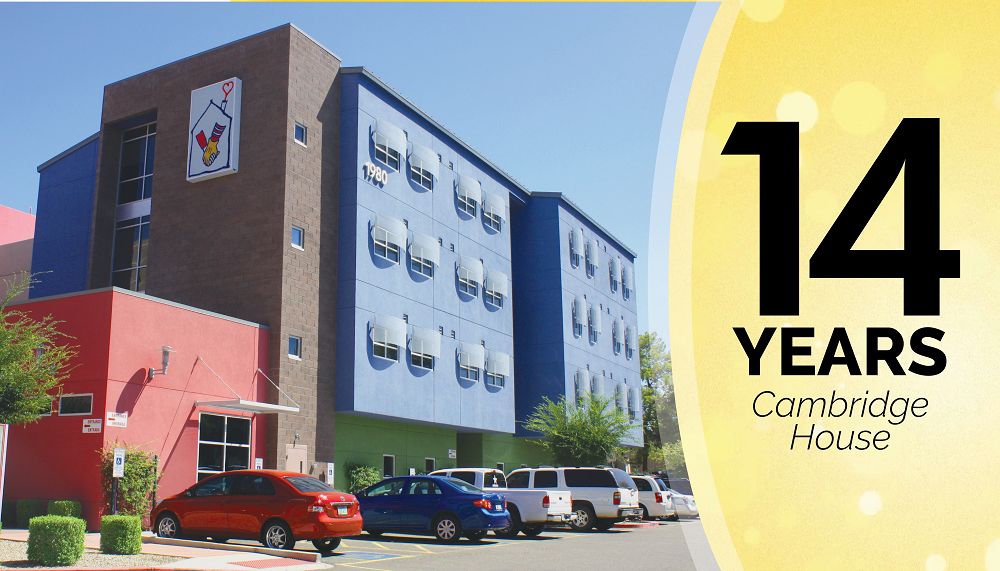 08 Jun

Celebrating 14 Years of Family at the Cambridge House

This June marks the 14th anniversary of our Cambridge House opening. To celebrate, we're giving you 14 facts you may not know about the House. We can't wait to hear the one that surprised you most!
The Cambridge House opened on Monday, June 23, 2008.
A committee of dedicated champions raised over $6.2 million as part of the "Building the Future with Love" campaign to build the House.
Four stories tall, it provides 26,800 square feet of space for families.
The first family to stay at the Cambridge House was the Kemp family from Lake Havasu City, who stayed at the House during their son Seth's bone marrow transplant.
This location is named after the street it is on – Cambridge Avenue.
It is the only of our 3 Valley Houses with an elevator.
The Cambridge House served as the starting line for our now-extinct Heart & Sole Walk fundraiser. The finish line was our Roanoke House 2 miles away.
It was the second Ronald McDonald House in Phoenix. The first was the Roanoke House, which opened 23 years prior.
This House provides 18 rooms for families, including 6 apartments.
Since opening, families have made over 4,000 visits to this location.
Tissbeth Martinez, who has been with RMHC for over 10 years, is the main Guest Services Coordinator at Cambridge.
This location went through a renovation in 2016 to refresh the community spaces and guest rooms.
In 2021, a family's average length of stay at the Cambridge House was 27 nights.
It is located on the campus of Arizona's premier Phoenix Children's Hospital.
THANK YOU for being beside us, and the families we are proud to serve, every step of the way!