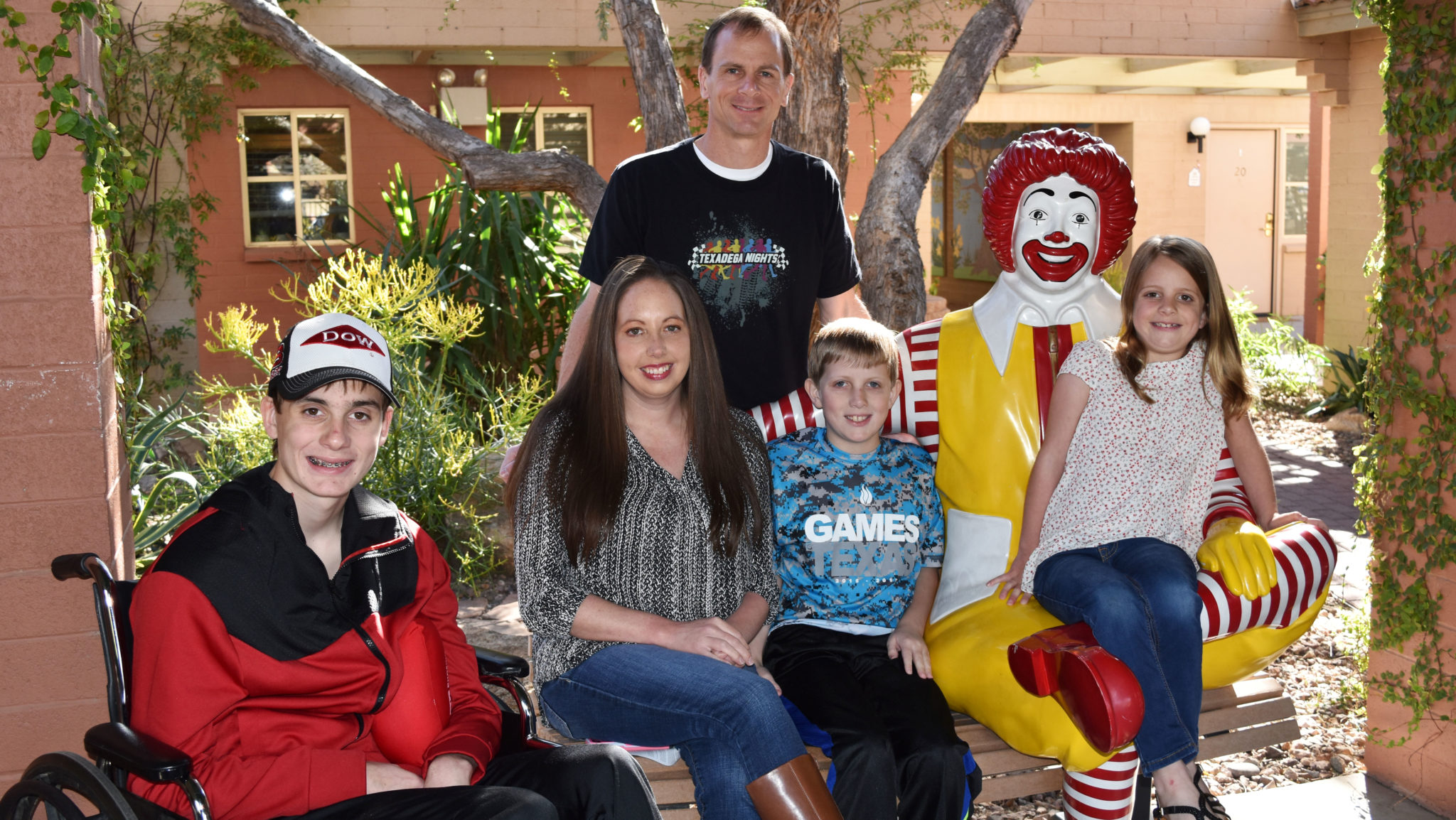 27 Mar

Touch of Comfort: Austin's Story

As a healthy 14-year-old, Austin loves NASCAR, basketball and swimming competitively, so it was a shock to his family when a doctor's appointment in December turned into something much less routine. Since birth, Austin had lived healthily with a dimple in his chest, a condition called pectus excavatum, but after a rapid growth spurt greatly increased the indentation, he needed surgery.

Seeking the best treatment option, Austin's parents Jennifer and Brian decided to travel from Denton, Texas to Phoenix Children's Hospital for surgery. A thousand miles from home, the family of five, including Austin's siblings Nathan and Haley, packed up and made Ronald McDonald House their temporary "home-away-from-home" for 13 nights. "The proximity to the hospital has been very convenient, especially having the two little ones who couldn't go [to the hospital] to see him," Brian said.

The home-like amenities of the House added a special touch of comfort for all members of the family. While keeping close to their brother during his recovery, Nathan and Haley used the library to complete school work, and loved spending time on the playground and searching for the beloved housecat, Smokey. Brian said, "They don't want to go home. They're comfortable here. They're not scared."

Austin's parents also found great value in the little touches that made the House a home, including the kitchen where they could store groceries and enjoy volunteer prepared meals each night. "It's been nice to have a home base to come back to," Jennifer said. "As a family of five, having other parents and the staff to chit-chat with — it's kept anxiety and depression at bay."

Austin and his family know they will be back in Phoenix for annual check-ups and another surgery in three years to remove the rods that were placed in his ribs to expand his chest. With their next visit in mind, Jennifer is glad to know Ronald McDonald House will be there with open doors. "We know where we'll stay. We know the hospital, that it's okay here. A lot of the unknown is gone."

Ronald McDonald House is keeping families, like Austin's, close, even when they're a thousand miles from home.